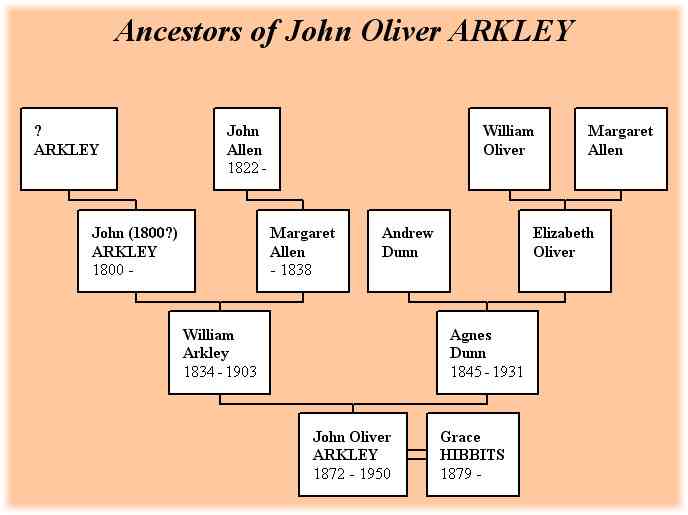 John Allen left Bannockburn, Sterlingshire, Scotland in 1822, stayed a year in Quebec City, three years on a rented farm near Leeds Village, then took up 500 acres on the south side of Russell's Hill. Four soms, John William, Charles and Samuel. Four daughters. Jennet (Mrs. Samuel Megent) Elizabeth (Mrs. W/. R. Thompson), Agnes (Mrs. Ernest Stephenson), and Margaret, who married John Arkley, who left Linlithgow, Scotland in 1825, remained in Quebec until 1829 then removed to Leeds. Three sons, John, James and William. His wife died in 1838. He then married Margaret Mann, by whom he had three sons and five daughters. Andrew Dunn came to Leeds from Sterling, Scotland about 1830, married Elizabeth Oliver. Two sons and five daughters. Janet (Mrs. Joseph Reid), Mary (Mrs. William Melrose), James (married Jane Thompson), William (Mrs. Eva Gillander), Agnes (Mrs. William Arkley) and Margaret and Elizabeth (died unmarried).
William Oliver came to Leeds from "the Border" in 1831 - married in Scotland to a Margaret Allan, James, Robert, Samuel, Andrew, Elizabeth, Annie, Janet, Elizabeth married Andrew Dunn.
William and Agnes Dunn Arkley had nine children. Charles Allen born in 1870 near Milligan's Corners, California. (He married in Lompoc, CA - Mabel Holland, in 1896. Three sons Allen, Harry, Phillip (died in infancy and Evelyn). John Oliver, born 1872, same place as Charles, in Santa Clara Co., married Grace Hibbits in Santa Barbara in 1899. Mary Elizabeth, 1874 married Irvin Taylor (one son, Charles Everett). William born in Lompoc 1876 - married Olive Streeter (one daughter, Ruth), Emma and Clara, Twins, born 1877 - Emma married Frank Coker (one son, Lee, three daughters, Eunice, Fay and Helen). Clara married Samuel Westrope (two sons, Arkley and Neil, one daughter, Agnes). Elsie, born 1884 - married John Dimmock, two sons, Edward and Jack and one daughter Mary Agnes (two children died in infancy).
William Arkley came around "the Horn" about 186__ to British Columbia, worked in logging camps for some time, then went to San Francisco. Agnes Dunn accompanied by her uncle by marriage Charles Allan came to California in 1869 and they were married. They lived in Santa Clara County until 1875 when they moved to Lompoc in Santa Barbara County. At that time there was no railroad within 60 miles or more. They lived there until their deaths, his in 1903 and hers in 1931. They lived in the country and William Arkley engaged in farming on a rather large way - He was very ingenious and clever with machinery - inventing several articles of machinery for threshing different kinds of grains.